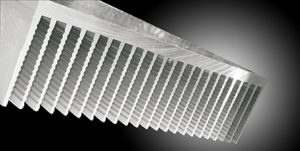 This product line is made from extruded aluminum profiles in bars from 3 – 6 meters in length.
Our catalogue consists of over one hundred standard profiles.
Our engineers are at customer's complete disposal to suggest and implement new forms of extruded profiles for each particular requirement, together with a qualified department for the rapid creation of samples.
Extruded types can be divided into:
Medium power profiles
Comb – shaped profiles
Press pack profiles
Profiles for screw type devices
Profiles for High power forced cooling
Application fields:
Power supplies
Household appliances
Welding industry
Transportation
Railway
Solar energy
Telecommunications
UPS
Battery chargers
Electric Drives (automatic machines)