Extra Power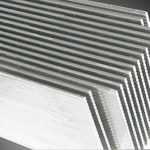 Extra Power is the line of "modular heat sink" designed for applications requiring high thermal performance.
For use with forced air convection systems, it is suitable for all applications of electronic equipment for medium and high power; in particular those assembled with the newest high-performance and reduced dimension electronic devices.
Extra Power System flexibility is due to the production process that allows the assembly of individual fins in order to obtain heat sinks with measures max. 650 mm in length x 750 mm base.
Application fields:
UPS
Welding industry
Transportation
Railways
Solar energy
Inverter
Telecommunications
Battery chargers
Medical equipment