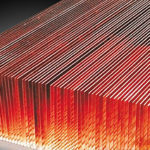 Bonded Fin is the new line of heat sinks designed to guarantee high thermal performance; these heat sinks are made by gluing the fins to a grooved base using special conductive resins.
The particular constructive technology allows us to obtain a complete customization of heat sink even in the face of a restricted number of pieces.
For use with systems of forced convection, it can be manufactured with base and fins in different materials, therefore fins and base in aluminum or copper base and aluminum fins.
Application fields:
UPS
Welding industry
Transportation
Railways
Solar energy
Inverter
Telecommunications
Battery chargers
Medical equipment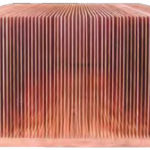 The heatsinks bonded fin have been developed for the necessity to enable the dissipation more efficient through forced ventilation.
The fins are placed on a grooved plate and fixed with a thermally conductive resin.
The plate can have a double groove and the fins are fixed on both sides.
In addition to aluminum you can use copper to have a higher yield.
To use this technique we require to provide the data component used and the temperature to sizing a heatsink suitable for dissipate the required power.
Characteristics:
Maximum power 2000 watt
Maxiumum size mm 800 x 1000
Materials:
Plan and fins in copper or aluminium
Plan in copper and aluminium fins
For use in forced convection
Applications:
Uninterruptible power supplies
Variable speed motor controls
Welding units
Power rectification equipment:
Inverters
Laser
Traction, electrical vehicle
Heatsinks obtained by gluing fins on a extruded base, or worked with machine tools, on which there are longitudinal grooves in which are inserted and glued, resins with high thermal conductivity, the fins.
They optimize space and weight as it is possible to have very thick steps can not be reached with metric or extruded heatsinks assembled.
They must necessarily be coupled to a system of forced air convection, by fan or other equivalent systems. The system is particularly flexible and versatile since it does not require the construction of matrices and therefore has no initial investment costs. Personal customizations are possible depending on the customer requirements.
  Dimensional data mm
TB
min 8
H
max 200
BASE
max 800
TF
0,8 – 1 – 1,5 – 2
P
min 2
Available with 1 or 2 bases