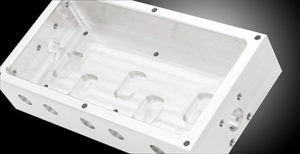 A finned aluminum container can act as a heat sink besides acting as a protection structure for internal device.
The boxes are prepared with guides to accommodate the electronic cards and can be designed and manufactured to ensure high standards of IP protection.
Application fields:
Telecommunications
Containers of electronic cards
Amplifiers
Lighting lamps
The "C" profiles, part of our range of profiles, can be used as boxes.
The length of the box is upon request.
Technical features:
Maximum product dimensions
Accuracy and tolerances on flat surfaces
Processed material:
Extruded aluminium
Die-cast pieces can be realised
Finishing:
Black or coloured oxidation, power painting, galvanization
Service:
Design on customer's request
Execution of drawings according to specifications
Integration with dissipating systems Calor IP 54/65 and special gaskets